"You're My Best Friend" by Queen

STUDLEY

It is with great sadness and many tears that I must report to you that on July 24th, 2000, my best friend and 'wonderful, white, whiskered one' made his peaceful journey to the Rainbow Bridge to join his beloved Morgan, after a short bout with liver cancer.

Please do him the honor of visiting the Tribute Page that Doodle and I created in loving memory of our little boy, by clicking on the button below, either before or after reading about him. We thank you.


This is Studley. He is 15 yrs old. He is my 'wonderful, white, whiskered one'!!

Studley was an outdoor cat that my (now Fur Angel) Morgan, and I adopted, when she was in one of her 'romantic times'. Even though any cat I own is an indoor-only cat, he was willing to give up his freedom and a bachelor's ways to be Morgan's life partner!!

And before you wonder, he is neither deaf nor blind!! (I get asked that a LOT!!) He IS very loving and affectionate, and 'poses' himself as if there were a photographer following him around! He is also very graceful, and prides himself on how far he can leap!

He loves to get patted on the butt, and is especially fond of gently but firmly pulling on his tail!!! He is the 'bathroom monitor', so any time we go into the bathroom, he will follow us in there, and ask to be petted or have his tail pulled!! Sometimes I even lift his butt off the ground while pulling gently on his tail, and he loves it!! I think it must feel like stretching to him!! And when we are not petting him, he will pretend his tail is some small animal that he is stalking!! He does it soooo well, that if you watch for a while, you'd swear that his tail was in fact not a part of him, but some little critter he was trying to catch!! Then, when he inevitably leaps for it, and it 'gets away', he looks bummed for a second, then acts like he's not interested!! Then he'll flick it, and catch the movement out of the corner of his eye, and start to stalk it all over again!! I figure it's the 'mature' cat's version of a kitten chasing its tail!! It's a wonderful 'show' when you are otherwise occupied!!!

And he is always very punctual about bedtime!! I wonder if he can actually tell time somehow!!! When I'm working on the computer late, and it gets to be about 11pm - midnight, he comes over and starts meowing to me, and gently puts his little paws up on my legs, and when I look down at him, he looks at me with this 'Ahem!!' look on his face, and says plaintively 'merrrow?!?', and it's very clear that he's letting me know that it's time to get off the computer and go to bed now!! And if I'm in the middle of something important, like working on this site, and try to keep working, he will keep coming back in every 15-20 minutes to remind me that he's still waiting for me!! And he's so cute about it, that I usually give in, and go to bed!!!

He loves to sit on my lap or right beside me, but he wants me to be touching him at all times. If I move my hand, he'll wake up, get up and come up to my face and demand attention!! He'll either make a soft little merrrowww, or hold one paw in the air, while curling and uncurling it, with this hopeful little look on his face!! Or both!!

He's a sweet, wonderful boy, who loved Morgan, and loves our little adopted girl, Doodle!! And he's my Best Friend!!

Studley is also a survivor of FUS, a potentially deadly illness!! He got it 5 years ago, and because he was treated in time, and now and forevermore eats special food, he was only sick for a few weeks and is now a completely healthy, happy little boy!!! To find out about this dangerous illness, please click on the poster below to go to our good friend Boomer's site, who is also a survivor of FUS, and has some vital information that you really should read!!!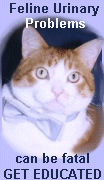 Ooohhh, look!!!
Studley is now a purrrrrrrroud
memfur of CLAW!!!
Just click on his crown below
To go to our CLAW page!!!

I Studley I Doodle I Morgan I Cowboy I About me I Rainbow Bridge I Cat Tales
Cat Friends I Events I Special Causes I Awards I Clubs I Links I Webrings I Home