This inspiring Rainbow Candle
was kindly given to us
by The Crowley Cats and their meowmie, Pat
In remembrance of our Studley!!
Please visit the Crowley Cats' Cyber Home
by clicking on Studley's candle above!!
Thank you, Crowley Cats and Pat
fur this furry thoughtful gift!!

It is such a comfort to meowmie and me
that we have so many wonderful, caring furiends
that have been so supportive of us
in our time of sorrow and grieving.
Thank you all so furry much from both of us
fur your kind words, lovely cards, and concern.

And here are some of our favorite pictures
of our little boy that we have included here
to honor his memory.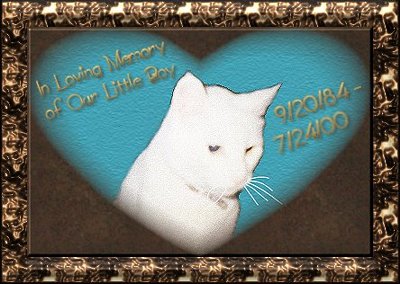 | | |
| --- | --- |
| | |

We love you so much little boy,
and although there is a huge emptiness in our lives
where you used to be, we are so happy fur you
that you are in such a wonderful place
and sharing it with your beloved Morgan.

And so, until we meet again, sweet Studley, remember we love you,
and fly free like the White Bird.

If you came here via Studley's page at our site, or would like to visit it,
purrlease click on the button below that says 'Studley'.
If you came here via our Homepage on our site, or would like to visit us there,
purrlease click on the button below that says 'Home'.
Thank you fur visiting our Tribute to Studley, we appurrciate you being here.
Unfurtunately, we had to close the guestbook because of the evil spammers, but if you'd like to see the lovely messages our furiends sent to Studley, purrlease click here: Studley's Guestbook Messages These are the most recent - fur the earlier ones just click at the bottom of that page to go to the page with the furst entries!! Thank you furry much!!