"You've Got a Friend in Me" by Randy Newman
(From "Toy Story")
Hello!!!
Welcome to our Cat Friends Page!!!

Well, we have discovered that if you make a wish,
Sometimes it comes true!!!
When we started this site, as you may have read,
Our main goal was to meet new people and make new friends!!
We are happy to say that this wish is coming true for us!!
But some of the wonderful new friends we have made
Don't yet have a home on the net!!!
So, we decided to make a page for our new friends,
Where all our other friends could meet them,
And get to know them, too!!

This is Monty!!!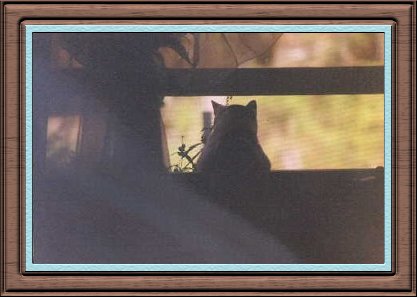 His meowmie's name is Karen!! If you look closely, you will see that when Monty gazes out his window, he rests on his 'elbows'!!! Don't you just love it??? We thought that was sooo unique, that he is our first kitty friend to grace this page!!! And he'd really appreciate it if you'd take the time to visit his meowmie's site, where she has some charming greeting cards, that she created using her own nature photographs, and original poems and drawings!!! If you'd like to see her beautiful cards, just click on Monty's picture, and he'll lead you right to them!!!

Pete's Furkids!!!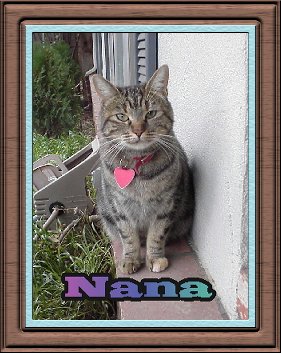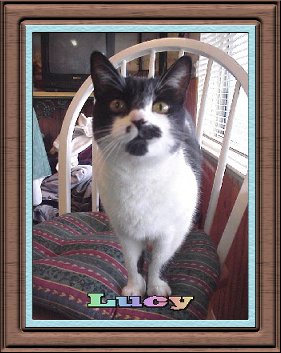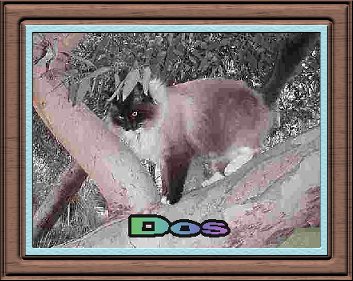 Pete lives in Madera, CA!!! His kitties don't have a net home yet, so we just had to put up their pictures here!!!
Here are their stories, in Pete's own words!!!
"Nana the tabby was called Penny Ann at first, but soon became Nana when we brought home two small kittens and she took to them as if they were hers. The kittens were Dos and his brother Jack. Jack loved to hunt and play in the field across the street and that was his demise. He was hit and killed Superbowl Sunday of this year. We miss him a lot, he was a real lover.
Nana was brought to my wife at work about two years ago. A fellow co-worker while going to lunch saw this very small kitten fall out of the back of a moving truck. My wife took it to the Vet to find she had broken her leg. Well, we got her fixed up and she has no problem now. Oh yeah, she was so small that the vet said she weighed in grams instead of pounds or ounces!! Yes ... she was almost a new born!!!
Lucy is the oldest, we brought her home about nine years ago as an adult then. She was hanging out at the plumbing shop I was working at. She had been in an accident, she drags her back left foot when walking. What made me decide to bring her home is that she is a talker. Meow! for this, Meow! for that, Meow Meow!! And she loves spicy food!!
Dos, on the other hand, is 100% boy!! Looking for trouble all the time. He really makes me laugh!!
We moved from the city to the country 10 years ago, bringing our 14 - yes 14 - cats with us. None of those are with us now, but we still hang their Christmas Stockings out every Christmas. They will never be forgotten!! We are working on a stray right now. A yellow one that hangs out on the front porch. It won't be long til we make him a pet. Cheese is the secret!!"
Thanks, Pete, for sharing your furkids and their stories with us!!! Good Luck with the little yellow boy!! We look forward to having a picture of him to put up on this page soon, too!!! ~G~

OOOHHHH, LOOK!!!!!!! D*GS!!!!!!!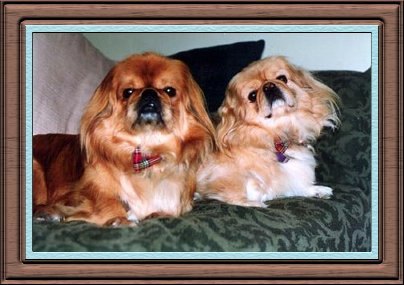 Yes, we know!!! They ARE d*gs!!!
But, they are so very cute,
That we just had to share them with you!!!
Our good friends Von and Carrie are their Mom and Dad, and these furkids are sooooo cute, we asked them if we could put their picture on our site here!!! They graciously agreed, and provided the following information about their two little darlings!!!
This is Harry and Willie!!! They are brothers, and are about 7 years old. They weigh about 14 lbs each!! Their parents think that they are the cutest little d*gs in the world!!! Their favorite foods are: carrots, bananas, peanut butter, chicken, turkey and watermelon!! And of course their d*ggie food and biscuit treats!!
And a special note from us: They are very sweet tempered and affectionate, and are always kept extremely well groomed!! It is obvious that their Mom and Dad love them very much!!!