"Heart of the Home" by Alanis Morrisette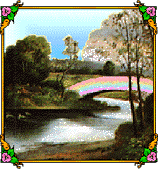 THE RAINBOW BRIDGE
There is a bridge connecting Heaven and Earth. It is called the
Rainbow Bridge because of it's many colors!! Just this side of the
Bridge, there is a land of meadows, hills, and valleys, with lush green
grass, tall, beautiful shade trees, and clear, sparkling streams, and
fields of beautiful flowers of every kind, in every color of the rainbow!!
When a beloved pet dies, they go to this beautiful, peaceful place!!
There is always plenty of food to eat, and they drink from the crystal
clear streams. The weather is always warm and sunny. All the
animals who were ill or old are restored to health and vigor, and all
their pain and discomfort vanish!!
All the animals are happy and content, and run and play with each
other!! But in each of their minds, is the memory of that special
person they left behind, because they don't forget the love they shared
with them!!
Then one day, one of them will suddenly stop playing, and look into
the distance!! Their bright eyes are intent, and their eager bodies
begin to quiver with excitement!! They bound away from the rest,
flying over the green grass, legs flying faster and faster!! They have
spotted their 'Special Person'!!
They run into their special person's arms and cling together in joyous
reunion!! They rain happy kisses upon each other, and their special
person caresses their little heads, and hugs their little bodies!! They
look once again into each other's eyes with love and trust, and rejoice
in their reunion!!
Then they cross the Rainbow Bridge together, never again to be
separated!!
So, believe, and have faith, that YOU and YOUR beloved pet WILL once
again be reunited, for all time!!!
Below is a beautiful poem that was sent to me by my very good friend, Teddy, when my Morgan went to the Bridge, and I thought it was such a lovely sentiment, that I decided to add it to this page!! But, be warned, it might make you cry!! (I cried all over again while loading it on this page!!)
A CHILD LOANED
"I'll lend you for a little time a child of mine," He said.
"For you to love him while he lives, and mourn for when he's dead.
It may be six or seven years or twenty-two or three,
But will you, till I call him back, take care of him for Me?
He'll bring his charms to gladden you, and should his stay be brief,
You'll have his lovely memories as solace for your grief.
I cannot promise he will stay, since all from earth return,
But there are lessons taught down there, I want this child to learn.
I've looked this wide world over in My search for teachers true,
And from the throngs that crowd life's lanes, I have selected you.
Now will you give him all your love, not think the labor vain-
Nor hate Me when I come to call and take him back again?"
I fancied that I heard them say, "Dear Lord, Thy will be done,
For all the joy the child shall bring, the risk of grief we'll run.
We'll shelter him with tenderness, we'll love him while we may,
For all the happiness we've known, forever grateful stay.
But should the angels call for him much sooner than we planned-
We'll brave the bitter grief that comes and try to understand."
Author Unknown