"Take On Me" by A-Ha

Well, we have ALL of our adopted furiends represented now!!
So ... without further ado
... *drumroll* ...
The Mountain Kitties!!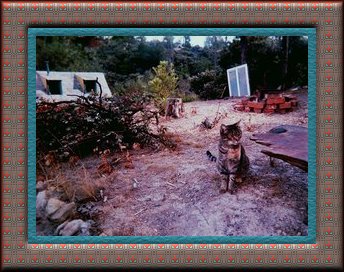 These first two pictures are of little Gracie, the very first kitty we met up here at our new home. At first she was very shy and had to be coaxed to come to us. But soon we became friends and she started coming around all the time, and now she comes in and makes herself at home like she's been with us always!!

She is a real lover and has a very friendly sweet temperament. She LOVES to lick and suckle on our fingers and Sam will let her do it for minutes at a time!! She just purrrs like crazy and gets a dreamy look in her eyes!!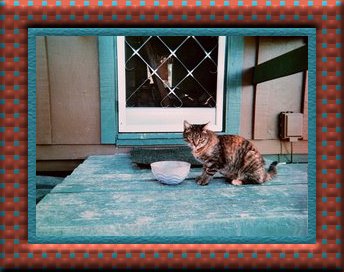 We are so grateful to her that she chose us to be her new family.

We believe that our Fur Angel Studley knew he was going to be called to the Rainbow Bridge and found Gracie and asked her to bring some furfriends and come to us so we wouldn't miss him quite so very much.

And it worked!! Gracie, Papa-San, Greta and Hallow have brought a lot of happiness into our lives!! Thanks, Studley!!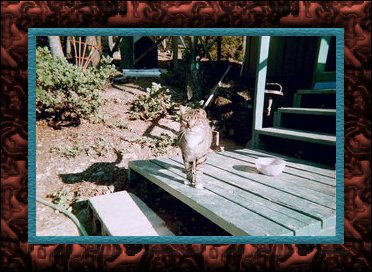 And this is Papa-San! He is a very big boy, and one of the most loving, sweetest kitties you could ever have the pleasure to meet. We are especially happy to welcome Papa-San into our family as it is obvious by the way he instinctively ducks when you reach to pet him that he has been abused. We are happy to assume the responsibility of giving him as much love as possible in an attempt to make up for the abuse he has suffered in the past. (P.S. He no longer ducks!!!)
He is also a very brave guy as he sleeps with us on the bed every nite and doesn't get scared off by Doodle hissing and growling and even braver, he sleeps at Sam's feet ~ and no cat before has been brave enough to do that! It usually alarms them that he moves around during the nite, whereas I will get a triple cramp in my leg to avoid moving the kitty! But our little Papa-San just loves to curl up against his leg and go to sleep.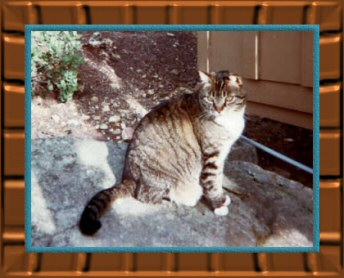 If you look close you will see that his left ear (on your right) is bent in crooked. We didn't know why it's like this, but we were imagining the worst!! Fortunately, we found out since from our vet that he had an torn ear, probably from a fight (and I wouldn't want to see the other cat!) that was fixed by a vet. We were happy that it wasn't direct abuse, but the fact that he was once someone's kitty that they just dumped on a lonely mountain top really broke our hearts!! This guy is SUCH a sweetheart ... how COULD they?? Thank God we were here!!
Oh, and in case you wondered, his ear doesn't seem to cause him ANY pain! He is our big cuddly boy and we love him so much ~ we are so very happy that we were here for him and that he chose to live with us!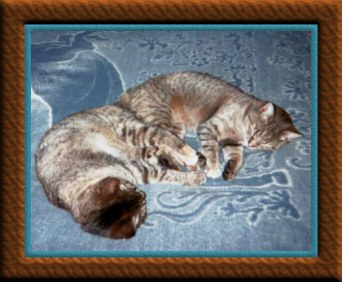 And here's the others ... First up is little Greta who is still VERY shy, especially about having her picture taken ... so we waited til she was asleep on our bed playing 'bookends' with her sister Gracie, and snuck up to the loft and snapped her picture!! Don't they look alike?? We think they must be 'twins'!!

And although she is a very shy little girl she is so very affectionate, just like her sister!! As you can see, as long as Gracie is nearby, she makes herself right at home with us and loves to be petted!! They sleep on the bed every night!!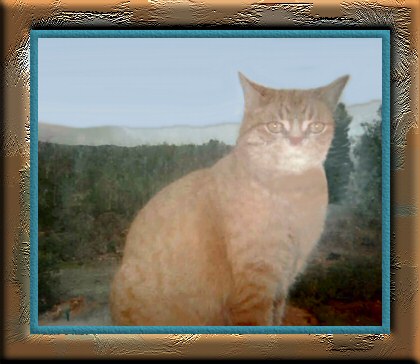 And here's Ms. Hallow - short for Halloween in honor of her beautiful orange coat - which isn't too visible in this picture!!

She's our 'wild child' and races in and out, so it's very hard to get a picture of her at leisure ... unless she's sitting on the window ledge outside, looking in at us - as in this shot! And the glare from the flash reflected on the window has dulled the look of her bright orange coat - but we know you can imagine it!!

She is also very loving and affectionate - but only for about two minutes at a time and then she's racing off again!!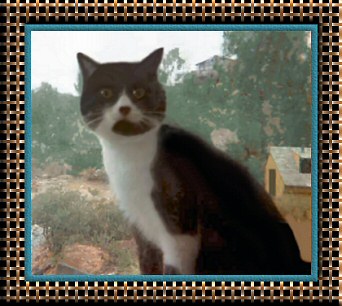 And Hallow brought this little guy to us shortly before we had to move from our wonderful mountain paradise. One day she showed up with him - and we don't know if he was a neighbor's cat or just recently dumped on our mountain, but he is a friendly little fellow, and he came by all dressed up so nice in his little tuxedo, that we had to welcome him into our growing family!!

Also shy at first, he warmed up to us quickly and started finding his own little places to curl up in our cottage, although he is the only one that never really climbed the ladder into the bedroom loft - we think the ladder scared him!!

We tried carrrying him up there a few times, but he just freaked out and paced and cried to get back down, so we just let him make himself at home downstairs!!
We hope you have enjoyed meeting part of our wonderful new extended family!
We are very blessed that these special kitties have decided to 'take us on'!
NOTE 6/20/04: This is a minor update to include ALL of our wonderful Mountain Kitties on this site. Sadly, when we had to move, we were only able to bring Papa-San with us, because we didn't want to strand Greta without Gracie, and we felt Greta would not have done well moving her someplace else, she was such a little scaredy cat!! And Hallow and her boyfriend were just too 'wild' to tame them enough to be indoor pets in a home in the city where they could not go out exploring whenever they chose to!!
So we left them where we found them, on a beautiful mountain, with the trees and the birdies and each other to keep them company and protect - and we have heard that the new tenants of our little cottage have been feeding them and watching over them so that is all we could hope for!!
And Papa-San - now more often than not referred to as 'Poppy' - has become the joy of our life!! He adapted well to being an indoor only spoiled little boy, and he and Doodle have become friends and partners in crime and we are SO glad we could give this most wonderful little boy a loving, secure forever home!! He is happy, healthy and all ours!!!
Note: My apologies to both you the viewer and our gorgeous new family members that I am such a lousy photographer!