Perfect Paws Pet Rescue Gazette
SPRING A PET 2006
SATURDAYS 12:00-3:00 AT PETCO!
HELP US HELP THEM!!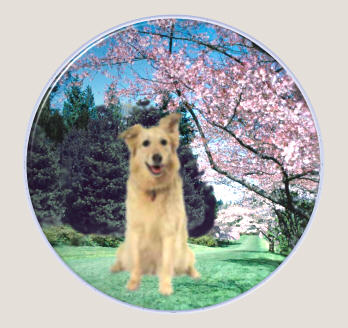 Picture Your Pet this Spring is another first annual event by Perfect Paws in an effort to raise money so we can continue to rescue as many pets as possible. Pet rescue is hard work and very costly! Most of the pets we take in are in need of medical attention. They need vaccinations, spayed/neutered, heartworm medication, and flea/tick prevention. Unfortunately, these items are very expensive so we are constantly looking for fund raising ideas to help us pay for all of these necessities for our furry friends. Remember, adoption is the best option: Rescued Pets Make Incredible Family Members.
Picture Your Pet this Spring will take place at the Fort Wayne Petco Store, located at 315 East Coliseum Blvd in Fort Wayne. Perfect Paws obtained a professional photography background and a cheerful Spring scene for the pictures which are Polaroid instant prints placed into a round, clear plastic magnet frame to display on your desk or hang on your refrigerator. These Spring pictures can be with one or multiple pets - or the entire family!
The cost of the photos is a very reasonable $8.00 each $3.00 going directly to Perfect Paws. The remaining $5.00 will be going into Petco's Spring A Pet fundraising campaign.
What better way to remember this Spring and Easter season than to have your pet's picture taken. By doing so, you are serving two purposes, you are capturing a life long memory AND helping Perfect Paws save lives. This is truly a win, win proposition.
Picture Your Pet this Spring will be offered on Saturday, March 18th, Saturday, April 8th, and Saturday, April 15th at Petco from 12:00PM to 3:00PM
We thank Paul, Petco's manager, and his entire staff for partnering with Perfect Paws to help save lives and give a second chance to helpless, unwanted pets!
Please come to Picture Your Pet this Spring- it will be a wonderful time. There will be a little gift for each pet and child that has their picture taken.
OBEDIENCE TRAINING COMING SOON
SUMMER 2006!
Obedience Training Classes will soon be offered! Tammy Derickson recently obtained her certification as an obedience trainer from Animal Behavior College. The classes will be positive reinforcement training using the clicker training method. This type of training is very successful and fun for both the dog and the owner.
The Pre-School Class will be a 4 week long session for puppies three to six months old. It will meet one day a week for one hour and will primarily focus on socializing puppies and clicker introduction.
The Puppy Class will be an 8 week long session, meeting once a week for one hour. This class will be for puppies six to twelve months old. The puppy class will teach basic obedience commands and how to turn your puppy into a polite, well mannered family member.
Finally, the Beginners Class will be an 8 week long session, meeting once a week for one hour. This class will be offered to any dog over one year old. The beginners class will teach basic obedience commands, walking on a leash and help your dog become a polite, well mannered family member.
If you are interested in participating in an obedience class, please e-mail . In your mail, please indicate which class meets your needs - plus the day of the week and time that best fit your schedule.
At the present time the classes have not yet been scheduled. As responses from interested people are received, the classes will be set and notification e-mails will be sent.
Perfect Paws Featured Pup!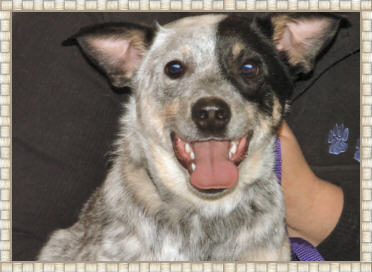 Say Hello to Allie! At 7 or 8 months old, she is still just a pup. She is a Terrier/Cattle Dog mix. She is a very unique, beautiful pup with brown speckling on her legs and black speckling on her back! Allie is very sweet, starved for love and attention - and she just adores everyone ... other dogs, cats, kids and adults.
As a puppy, Allie has a very high energy level and loves to run, romp and play. She is being taught basic obedience to learn her manners and she has already learned to sit and go to bed in her crate. Allie was surrendered by her owners due to allergies, so she is very confused because she does not understand what is happening and why her family left her.
On the plus side, she is totally crate trained and housebroken, already spayed, current on all her shots, heartworm negative, and has been treated with both heartworm and flea & tick preventative.
Allie needs a loving, patient home where her family is willing to take the time to help her understand that she no longer has to work so hard to get love and she will be loved just for being her own adorable self! And continuing to teach her to be a well mannered young lady is crucial to her being able to enjoy a long happy life. Just understand that when you first meet Allie, she may come across as too much of a handful - but we know this little gal, and all she needs is lots of love and patience - and a bit of basic training and discipline. Her foster mom has already proven that this will change if she is given a little bit of time to get to know you, trust you and learn from you. So, if you would like a lifelong playmate who is loving, loyal and devoted, please call 260-341-5229, e-mail or fill out our online Adoption Form if you would like to adopt Allie or any of our Adorable Adoptables!!
And equally exciting ...
Perfect Paws Featured Feline!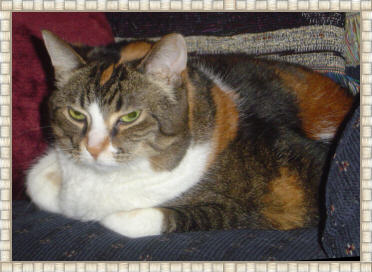 Say Hello to Pumpkin! She's a beautiful calico and is 8 years old! She's a very sweet little girl too and she is really hoping that someone will adopt her and take her home, so she has someone to cuddle with and love!! Could it be YOU? She told us she promised to be a good kitty for anyone who would love her in return!!
So if you are looking for a playful, loving, loyal feline friend, please consider Pumpkin then call 260-341-5229, e-mail or fill out our online Adoption Form if you would like to adopt Pumpkin or any of our Fabulous Felines!!
March, 2006 Issue
Meet & Greet Perfect Paws' Adoptables!
WHERE:
Pet Supplies Plus - 4714 Coldwater Road
Petco Pet Store - 315 East Coliseum Blvd
PetsMart Pet Store - 1760 Apple Glen Blvd
WHEN:
Saturday 3/18 Petco ~ 12PM - 3PM
Saturday 3/25 Petco ~ 12PM - 3PM
Saturday 4/8 Petco ~ 12M - 3PM
Saturday 4/15 Petco ~ 12PM - 3PM
Come visit with the pets!! There is no picture in the world that can compare to meeting a pet in person!! If you are interested in adopting, fill out our online Adoption Form at least 12 hours in advance so that you can pick out and adopt your pet right there!

RALLY TO RESCUE AMBASSADOR!!
Purina Pro Plan!!
Perfect Paws is very honored and proud to announce our approval as a Rally To Rescue Ambassador by Purina Pro Plan. We are really looking forward to starting this great new Perfect Paws' adventure partnered with - Purina Pro Plan! Perfect Paws is joining paws with more than 500 other resuce organizations all across the United States. The campaign runs throughout the year with many events planned. Visit Rally To Rescue for the scoop!
Come to our adoption events and choose the pet you want to adopt and RALLY TO RESCUE! Saturdays from 12PM-3PM at:
Petco Pet Store
Pet Supplies Plus Pet Store
PetsMart Pet Store
Our goal is to find loving forever homes for many homeless pets during this Rally to Rescue campaign. There will be all kinds of goodies and fun things - for all ages - so be sure to bring the whole family for tons of fun!
If They Could See Me Now!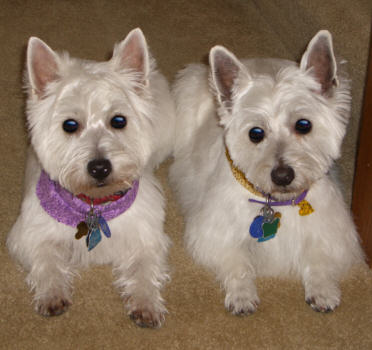 Dear Tammy,
I wanted to let you know that I am doing great. As you know, I was adopted on December 2nd. I just went for my second "spa day" with my sister and best friend, Bella. We got fluffed and puffed and we are too cute, at least that's what Mommy says.
I have a big fluffy bed in my Daddy's office that me and Bella can sleep on while he works. We love to play ball when he takes a lunch break. I like to carry my tennis ball around in my mouth so I'm always ready to play!
I love to go for walks with Mommy and Bella. We go to the park and chase the ducks. It's BIG fun! When it's cold, me and Bella wear our sweaters and everyone says how cute we are. We have many dogs in our neighborhood so I have met lots of new friends.
At night, I am exhausted and I like to snuggle up on the couch and sleep until we go to bed. I love my new Mommy, Daddy and Bella too! I was so lucky that you saved me and helped me find my new family.
I hope all is well and you continue to help many more lucky dogs find wonderful homes like you did for me. Mommy says to tell you "thank you again" for sending me to them. They really love me a lot and take real good care of me. I really love them too! Many thanks to you and Perfect Paws!
Caty Blu
P.S. Mommy, Daddy & Bella too!
These are the happy endings that we strive to obtain. Perfect Paws believes that every puppy, dog, kitten, or cat should have this kind of life and be as loved as Caty Blu is. All pets, whether purebred or a mixed breed, deserve to be saved!
DONATIONS DESPERATELY NEEDED!!
Perfect Paws Search & Rescue, Inc is an IRS approved 501(c)(3), non-profit, tax exempt, charity corporation. This means that your donations to help our rescue efforts, are now tax deductible! So, please help us help them. With MUCH focus and attention directed to the hurricane Katrina animal victums, MANY animals in our area have been needlessly put to death as there was no one to help them.
It is true Hurricane Katrina was devastating, HOWEVER, the pets in need right here have not changed! We CANNOT forget or ignore the needs of the hundreds of abused, abandoned, and neglected pets in our own backyard. We TRULY NEED need your help to help the many unwanted/disposed of homeless pets. They have only ever wanted to be loved!! PLEASE HELP!!
Can you find it in your heart to provide financial support for some of our Adorable Adoptables? Your financial donation can be made directly to the Southtown Veterinary Clinic or the Spay/Neuter Clinic of Fort Wayne for the sole use of Perfect Paws Pet Rescue. No amount is too small, every little bit helps! For more info, e-mail
You can also make a general monetary donation via any Donation Button, located at the bottom of every page!! And as you can see below, we always have a list of needed items, so if you would rather donate that way, please check out the Wish List below.
Perfect Paws Wish List!
We always need help from you so we can continue to help these pets, and one of the easiest ways to help is to donate goods and products that we can use for our pets while they are in our care.
Here is our current Wish List:
Pro Plan Puppy Food
Pro Plan Adult Food
Rawhide Chews
K-9 Frontline
Heartguard Plus
Meow Mix Cat Food
Purina Kitten Chow
Pine Kitty Litter
Feline Frontline
Greenies
Blankets
Towels
Paper Towels
Latex Gloves
Bleach
Lysol Spray
Clorox Wipes
THEY NEED YOU, PLEASE HELP!!!
Here at Perfect Paws Pet Rescue we are always in DESPERATE need of Foster Parents willing to share their homes with our precious rescues until they find their forever homes. So if you can open your home to just one pet we would be very grateful - almost as grateful as the pet you kindly welcome to your home!!
We feel it's crucial to the well-being of our rescues to be fostered in loving homes, to make it easier for them to make the transition to their forever homes!! So our rescues literally come from our homes to yours!!
If you can provide even one of our Adorable Adoptables with a loving, caring environment until they find their forever home, please take a moment to fill out our online Foster Home Application. Perfect Paws gives every foster home all the necessary supplies to care for their foster pet. This includes their food, a crate, any medications and all required vet expenses. We believe if you are willing to offer the love and shelter we should furnish everything else. So please open your heart and home to one of our many 'rescues in waiting' today!