Welcome to the CyberHome of Macon, Missouri's Sesquicentennial Celebration!
Welcome visitors, as well as all Maconites past and present! As we prepare to celebrate the 150th Anniversary of our town, we hope you'll check back often to this site and learn more about Macon, Missouri. Also known as 'The City of Maples', Macon is located in northeast Missouri at the intersection of US Highways 63 & 36. We hope you will join us for some of the many fun and interesting events we have planned during our 150th anniversary celebration week. To find out the dates, times and locations of all our events, be sure to look over our Calendar of Events so you don't miss your favorites!
AND THE WINNER IS ...
For anyone who missed it, we had a contest to design a logo that best represents our Sesquicentennial Celebration. The winning logo claims the honor of being emblazoned on most of our Macon 150th souvenirs and merchandise - immortalizing it for all time as
an important and permanent part of Macon's Colorful History!
The talented people who designed this winning logo are ...
Janice Snyder and Sharla Di Varmo!!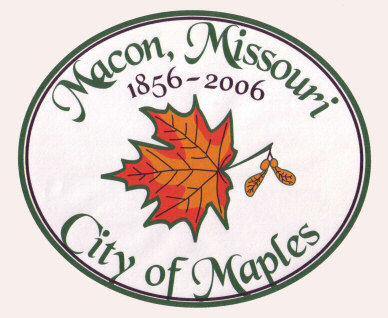 Congratulations on the great design you came up with to commemorate the Macon 150th!! You will see it delicately etched onto the lovely keychains now available in our Macon Souvenirs section ... it really enhances their beauty! And watch for it to turn up on more of our wonderful souvenirs as they become available!
We would love for all Maconites past and present to be a part of this exciting event, and therefore we welcome submissions such as short stories or brief descriptions of historical events or residents of Macon that you feel would be of interest to other Maconites. We will be posting your entries in our I Remember ... section so that everyone can enjoy them.
Be sure to stop by The Town's History section where you will find an impressive assortment of stories that transport you back in time and offer an enlightening and surprisingly comprehensive recounting of Macon's history.
We know that you will enjoy learning more about some of our most Famous - and sometimes infamous - Maconites, as well as reading about many of the most Memorable Moments in Macon's long history!
Don't forget to pick up YOUR favorite commemorative items so you will have some Macon 150th Souvenirs so you'll have something to remember this historic occasion!
Wondering who put all this together? Stop by and Meet the Committee! Then please be so kind as to Sign Our Guestbook and let us know what you think of the site and our efforts to produce a wonderful event for you to enjoy as we celebrate Macon's 150th Anniversary and Sesquicentennial!
Last, but definitely not least, we would be very grateful to you if you would be so gracious as to Make a Donation! to help cover the expenses incurred when organizing an event of this magnitude. No amount is too small ... or too large! Please just give what you can - we very much appreciate your support! Thank you!
Now, please, browse our site, enjoy yourself, share your stories with us ... and we'll see you at the Macon, Missouri Sesquicentennial Celebration!