Pricing Information
First, we'd like to explain that giving out exact pricing
information, over the internet or over the phone,
with the project sight unseen and specifics unknown,
is impossible for anyone to do accurately and fairly.
Many factors, too numerous to list, must all be taken
into consideration when estimating the cost of a project.
That said, we'd like to list a few general guidelines
which will basically list low-end and high-end estimates.
Here are some examples:
Basic Service Upgrade: $900 -1200
Portable Spa Installation: $500 - $1000
Add A Dedicated Circuit: $100 and up
Basic Service Call: $100
Other aspects of electrical work have too many variables
to bid on accurately in a general arena such as this.
Anyone who quotes you a set price for a project,
without prior knowledge of that project, is probably overcharging you.
Those type of estimates are based on the highest cost
for the most difficult and challenging project.
If yours is not such a project, you will be charged too much.
This is why we offer our short, simple Free Estimate Form,
so you can describe the details and specifics of your project,
and receive an accurate estimate.
While keeping it brief, the more details you can provide
the more accurate the estimate we can provide for you.
If you feel you have a complicated or problematical project,
and would prefer an On-Site Free Estimate,
please use one of the e-mail links at the bottom of any page
to send us an e-mail with your request,
or you can call us at: 408-848-4438 to make your request,
or you can check that box on our Free Estimate Form.
---
Click on the button below to request a Free Estimate.

---
If you have any questions,
please e-mail me by clicking on the button below.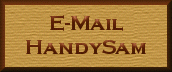 E-Mail me at: HandySam
---
Home | Pricing Info | Free Estimate | About Me | Contact Me
~ This site created, updated, maintained and hosted by Shirley Marshall / Perfect Sites
and owned by HandySam ~ © 1999-2001 ~
~ All HTML on this site hand-coded by Shirley Marshall ~
~ All graphics on this site (with the possible exception of some company logos/banners)
created or modified by Shirley Marshall and owned by HandySam ~ © 1999-2001 ~