THE MORGAN'S MEMORIAL MENTOR AWARD!!!
*******************************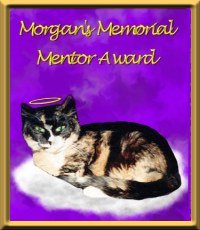 We hereby present
This Very Special AWARD to
DORIS, of DORISSIMO'S DOMAIN
And also to
TRISH, of SPACE STATION TIK TOK,
THE MOON-UNIT
To express our gratitude to them,
And in recognition of their invaluable help
In creating and bringing to fruition our site!!!
*******************************
We created this award for our furiends
DORIS and TRISH
Who were responsible for making our dream
Of having a website become a reality!!!
These two women are truly amazing!!!
And since our Fur Angel Morgan
Was such a truly amazing kitty
We felt it was fitting
That she present this award!!!
*******************************
This incredibly beautiful rendering of Morgan,
And the design of the award itself,
Were created by Jessica Suter of
WINDOW To The RAINBOW BRIDGE!!!
We wish to express our heartfelt thanks to Jessica
For creating this beautiful award for us!!!
You are truly an amazing artist, Jessica!!!
Please visit her site by clicking
On our MENTOR AWARD above!!!
You will be glad you did!!!
*******************************
Was someone YOUR MENTOR???
Is there someone who was YOUR mentor,
And was instrumental in making YOUR site a reality???
Someone whom you depended on
To help you when you needed it,
Offer support and encouragement,
And provide you with the technical expertise
That was required to create your site???
Would you like to give them this AWARD???
If so, PLEASE feel free to download it
To your computer and save it,
And present it to YOUR MENTOR!!!
And since this is our original award,
Please link it back to this page
On our site by using the html below:
http://callmeshirley.tripod.com/mentor.html
THANK YOU!!!
*******************************
If you have any difficulties
Downloading the image,
Or you have any questions or comments
About this award,
Please feel free to e-mail us
By clicking on our e-mail button below!!!
We'd love to know if you decide to give
Morgan's Memorial Mentor Award
To a deserving human or kitty,
So, won't you please e-mail us
And give us the URL of your site and
The site of the kitty or person receiving the Award
So we can check them both out???
THANKS!!!!!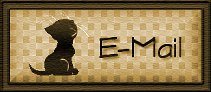 *******************************
To return to our Home page,
Just click on the heart below!!!