The Story of The Lone Headstone
By Maria L. Evans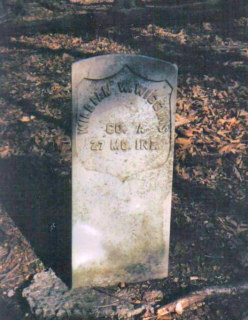 This headstone is located in the old Jones-Richeson-Glaze-Fox Cemetery, which was approximately ¼ mile south of where the old Duck Creek Schoolhouse used to be, and it is identified as Cemetery #36 on the Macon County Historical Website.
But on their map Cemetery #36 is described as abandoned or destroyed - which indicates a cemetery was once at that location but no visible tombstones remain standing ... and as you can see, that is not entirely true! It is now on private land that is unkempt and overgrown - and it is true that most souls that had been buried there were unearthed and moved in the middle part of the 1900's. At this time the main road between Macon and Atlanta - that had originally gone right by the cemetery - was moved further east. So their families relocated them when they became worried that the cemetery might be abandoned - which time has proven to be correct ... with one exception.
Because despite the fact that this cemetery is listed as having no visible tombstones, one does remain ... and it belongs to William Wallace Wiggans.
William Wallace was born in 1821 in Indiana. He married Eliza Eleanor Seney, the oldest daughter of Joshua and Mercy Seney in 1841. After Eleanor's death, Wallace married her sister Susan Seney Walker, whose husband had also passed on.
Years later, Wiggans joined the Grand Army of the Republic, but around 1900 he died in service to his country and his G.A.R. comrades buried him. And although they honored him by placing one of the their typical slab markers at his grave, unfortunately they misspelled his name, so the tombstone was engraved with the inscription William W. Wiggins, Co. A. 27th Inf. - as shown in the photo above.
Could it be that Wiggans and his tombstone were never claimed and moved when the others were because of a 'typo'? Sadly, we will never know why Wiggans and his tombstone were left behind ...
Be that as it may, this is the true story - or as much as we know about it! - of the lone headstone, which still stands today as the only visible reminder of the old Jones-Richeson-Glaze-Fox Cemetery.