Theodore Gary ~ 1854-1952
By Merlyn Amidei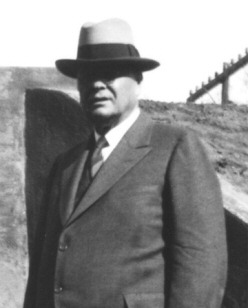 Theodore Gary was born in Wayne County, Ohio, May 13, 1854. He was the second child of George and Katherine (Pettit) Gary. Young Theodore attended the public schools, but only sporatically. He said he received most of his knowledge from 'the school of hard knocks'. His father was engaged in agriculture and the house-moving business, and Theodore was a great help to him. The family remained in Ohio until they moved to Missouri and settled near Jefferson City in 1867.
By the time Theodore was 18, he purchased his father's moving business and continued in that line of work until he moved to Macon when he was 22. Here, he also became an agent for the sale and installation of lightning rods.
Later, he turned his attention to real estate and the insurance business. He secured control of 11,000 acres of coal land from Thomas E. Wardell and became well known. The Wabash Railroad Company offered him the position of manager of its auxiliary town site company. It was an offer Gary couldn't refuse.
He temporarily moved to Ashley, Indiana while completing that job, and when he returned to Macon he resumed the real estate business under the title of The Hudson-Gary Land Company and established the Theodore Gary Investment Company. He was the prime factor in the organization of the Macon Telephone Company and purchased the local exchange that had been established by John Wills. It was during this time that Gary really began to reap his fortune and fame. He had the patent for the dial telephone, and within ten years he had telephone companies established all over Missouri and eastern Kansas, plus plants in Belgium, Italy and Canada. In 1907 he was the president of the International Telephone Association. He headed the Theodore Gary & Company in Kansas City, which eventually controlled 80 percent of the world's dial-operated automated telephone equipment. (In 1955, when Theodore Gary & Company was acquired by the General Telephone Corporation, it was renamed General Telephone & Electronics Corporation or GT&E. In 1983 the name was changed to simply GTE Corporation.)
In 1900 he served a term as Road Commissioner for Macon and became interested in road problems. At the age of 67 in 1921, he accepted the chairmanship of the Missouri State Highway Commission only after getting a signed affidavit that the government would not interfere. He became known as the Father of Missouri's Hard Road System after securing at least two major hard roads in every county of Missouri.
In 1929, Governor Henry S. Caulfield appointed Gary as chairman of the Missouri Survey Commission to investigate conditions in the penal, eleemosynary, and educational institutions. After giving the report to the legislature in 1931, Gary retired to his Oakhill estate in the northwest part of Macon.
He was asked on several occasions to run for different political offices, but he always refused stating that he did not care for the strings attached to government affairs. He did serve as Chief of the Macon Fire Department for a time and served on various committees. He was a member of the Episcopal Church and a valued member of the parish of St. James here in Macon.
Gary first married Nannie Ogan in 1876 and she died March 9, 1881. They had an infant child, Fletcher Leslie, that died when he was only eight months old on March 9, 1879. In 1893, Theodore married Helen Fairbanks Larrabee, daughter of Fairbanks and Mary Jane (Ross) Larrabee and she died in 1936. They had two children – Hunter Larrabee Gary (died in the state of Florida November 30, 1946) and Mary B. (Mrs. Wesley H. Loomis, Jr. who died in Kansas City in 1987). His surviving wife was Annie Laura Green Larrabee Gary, the widow of Ross Larrabee, another prominent Macon man. She died following surgery in Moberly Woodland Hospital on June 30, 1956.
Mr. Gary died November 4, 1952 at his beloved home, Oakhill, and the services were held in his home. The internment was in the mausoleum at Oakwood Cemetery. He was survived by his wife, daughter and several grandchildren and great-grandchildren.
Theodore Gary always stressed to his family to 'do something for the city, county and community in which you live'. Some of his many accomplishments are:
Instrumental in starting the Macon Building and Loan – he served as its secretary for several years and was on the Board
Joined the Anne Helm Chapter DAR to promote construction of the Macon Public Library in 1919
Provided for an addition to the Macon Public Library in 1926
Provided an endowment fund for the Macon Public Library with the interest going to repair old books and buy new ones
Secretary and Superintendent of Oakwood Cemetery Association for many years
Donated additional land to Oakwood Cemetery and built the entry and mausoleum
Made large financial contribution to continue upkeep and improvements for Oakwood Cemetery
Designed the golf course with each hole representing one from another course from around the world (now owned by the Macon County Club) – planted over 100 trees on land throughout the course and around the Oakhill estate
Served as the Secretary of Macon Board of Trade
Wardmere Corporation Company - composed of Thomas E. Wardell, Hunter L. Gary, Dr. E.B. Clements and Theodore Gary - purchased and remodeled the Jefferson Hotel including adding rooms, putting in modern heat and installing elevators
Served as secretary of the Macon Fair Association and funded the first set of bleachers at the fairgrounds
Instrumental in having the original surveys made and securing the land for the Macon Lake
Purchased much of the watershed around Macon Lake and kept it free of all possibility of pollution
Started Macon Gas Company and turned it over to the city
Laid out first two additions to Macon – the Sunnyside Addition and the Gary Addition
Influential in the beginning of the Missouri State Highway Department and establishing one of the headquarters here
More on Theodore Gary will be shared during the sesquicentennial. ABWA Home Tours will have Oakhill on their agenda for July 8th, so you will be able to visit Gary's home. Then on August 11th, Macon will celebrate Theodore Gary Day with lots of activities going on from the Macon Public Library, Samaritan Hospital, Macon Country Club and Missouri State Highway Department.