Lee McDowell ~ February 29, 1908 - April 12, 1997
By Donna Llewellyn Lester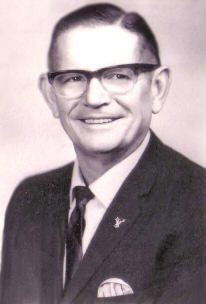 Lee McDowell was born in Macon on Leap Day February 29, 1908, the son of William and Carrie McDowell. Lee was proud of being born on Leap Day because he said it "kept it him younger than the other people he knew". Lee spent his childhood close to his family, spending much time in the McDowell Cafe that was located in downtown Macon.
Lee worked for the Macon Chronicle-Herald newspaper for 51 years, retiring in 1973. He started as a paper carrier and developed into a community news expert, specializing in covering the activities of students in the Macon School System. Lee loved sports and kept score for the Macon High School for 25 years. His collection of sports items were published in a book entitled, For Remembering Macon Athletic Events - Taken from the Lee McDowell Collection - 1899-1976.
From the time of his first visit Lee never missed a season visiting the Macon Public Swimming Pool. In his younger years he participated in competitions at the pool and in later years he relaxed, read books on the deck and took pictures of the patrons.
Lee was best known for his large scrapbook collection of newspaper clippings and photos that covered a large part of the history and heritage of Macon County, Missouri. He donated his scrapbooks to the Macon Public Library and they have become a great resource for family and historical research.
Lee was a member of the Macon Methodist Church and a member of the Quarterback Club.
Lee had spent most of his adult life living in an apartment at the Jefferson Hotel in Macon. At the time of his death on April 12th, 1997, he was a resident at Loch Haven Nursing Home in Macon. Lee was laid to rest in the Oakwood Cemetery in Macon.