Frederick Clarence Llewellyn ~ October 14, 1919 - August 8, 1979
By Donna Llewellyn Lester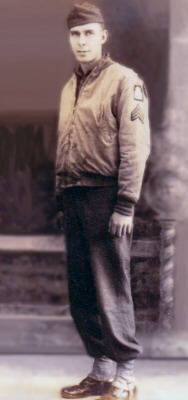 Frederick Clarence Llewellyn, son of Arthur Andrew Llewellyn and Mary Lucinda Nelson, was born October 14, 1919 in Macon County, Missouri.
He was a member of the Macon High School basketball team and was 'lettered' as a prominent team player. He was also a member of the Boy Scouts of America. He worked with his father and brother in the Llewellyn Coal Mines before he was drafted into the United States Army in 1940. He received his training at the Jefferson Barracks in St. Louis, MO and from there he was sent to Camp Pendleton in California, where he trained with 16" coastal artillery. He was then transferred to Georgia where he was stationed at Fort Benning.
Fred served in the Fifth Army under General Eisenhower during the African Campaign and was part of the 'Anti Search Light Battalion' that fought across the Rhine River from Italy into France, Germany and Austria. He ranked Master Sergeant before being honorably discharged in the spring of 1945. He was the recipient of five Campaign Stars, the Service Cross and numerous other medals.
He would rarely speak about WWII because like many he was having a difficult time adjusting to life after the war. He married Peggy Gross but this marriage didn't last due to Fred's alcohol abuse. After realizing that alcohol wouldn't erase his memories of the war, he stopped drinking and married Ruby Lee (Walker) Crook on August 13th of 1954. Ruby was divorced from her first husband and had two children, Mike and Debbie.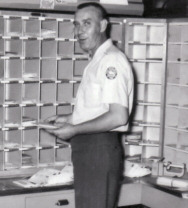 Fred and Ruby built their first house on the property that was owned by Fred's parents on Bourke Street, which was also right next to both his sister's home and his brother's home. The couple later moved north of Macon after building a new house there. This is the same house that is now owned by the Baldwin family.
Fred went to work for the United States Postal Service and he is best known for his work at the Post Office. Fred loved his time working at the Post Office and he was very proud of his job.
His father had passed away in 1964, and knowing his mother was lonely, Fred never failed to stop by and visit her every single day after work before going home. Fred was a good and kind person.
Besides his family and his work, one of the things that he loved most was his dog named Little Joe. Little Joe was a mixed breed dog, but mostly a mix of beagle and lab. He had a black coat and white face with black spots, white paws and a white tip on his tail. The dog was a 'rescue puppy' found by Fred's Uncle ... Fred!! His uncle would go to the city dump and rescue the dogs and cats that were 'dumped' there. Little Joe was a lice and flea infected little pup when Fred adopted him. As Little Joe aged he liked to sit in his water pan. A photo of this was taken and placed on Fred's casket when he passed away on August 8th of 1979 after fighting a battle with lung cancer.
After Fred's death Ruby moved into an apartment in downtown Macon, then later moved to Mississippi to be closer to her daughter. Fred and Ruby are now both buried in the Woodlawn Cemetery in Macon.