Frank Lolli & The Lolli Brothers Livestock Market
By Merlyn Amidei - with many thanks to the Macon-Chronicle-Herald and Jim Lolli
Lolli's is a thriving family owned business that has been in continuous operation in Macon for the past 59 years.
Colonel Frank Lolli was born and raised in Keota, located south of Bevier. He held auction sales around Clarence in the late 1930's until he was drafted into the US Army in 1940. After returning from the war, he came to Macon and purchased a cornfield on South Missouri Street, reconstructed the barn to have ten stalls, and the business became known as Lolli Sale Pavilion. That was June 7, 1947. As his sons Jim, Dominic, Frankie and Timmy grew, they became more involved in the business - and even his daughters, Mary Beth (Wyatt) and Patricia - helped clerk during sales.
Today the business has grown into one of the largest in the state and is nationally known as Lolli Brothers Livestock Market, Inc. The barns have expanded to over 300 stalls plus 50 lots. They have an electronic weighing system and their spacious barns are equipped with an automatic livestock waterer. Award winning taxidermy, historical artifacts, collectible sporting goods and old west memorabilia are featured, along with the sale of exotic and domestic livestock. The Lolli's invite anyone to come for a visit, attend a sale, or stop by the restaurant where a lot of local and world problems are solved over a good cup of coffee.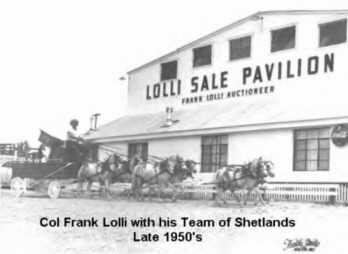 Livestock sales for cattle, hogs, and sheep are held every Tuesday. The first Saturday of each month is a horse sale. A biannual consignment horse sale was started in 1948 with Shetland ponies and Frank even sold ten ponies to Queen Elizabeth II of England. In order to acquire some of the best bloodlines of Shetland ponies, he traveled to the Shetland Islands and then for several years the Lollis raised the ponies. He also held the world title of selling the highest priced Shetland, Supreme's Bit of Gold, for $86,000. In the 1960's the Arabian horse sale replaced the ones for the Shetlands. In the early 1970's a horse figure was placed atop the sale barn and it remains there to this day.
As the boys gradually took over the business, they started having the exotic animal sales. The first one, in 1980, was just for one day and only featured exotic birds and chickens. These days there are four multi-day sales featuring ostrich, zebra, swans, kangaroos, bears, monkeys, camels, emus, elephants, llama, elk, pot- bellied pigs and a variety of other animals and birds. The brothers conduct the largest exotic sales in the world. The humane society and other animal welfare groups have kept a close eye on these types of sales, but with the excellent facilities and the brothers' knowledge of animal care and handling, they don't have any problems. All birds and animals must pass health inspections before being brought into the barn. They also make sure all buyers have any required permits or licenses and are knowledgeable about how to care for the animals.
A book could probably be written about the stories and events that have happened around that sale barn. One time during an exotic animal sale a truck driver was going through town about 2AM and all of a sudden over the CB came, "Boys, I haven't been drinkin' and I'm wide awake, but I just saw a kangaroo go in front of me!" Another time they had a couple of monkeys that were very tame. People would take them out of the cages to hold them and the monkeys would start unbuttoning their shirts or blouses. The monkeys had been trained for an act with a professional stripper.
All the Lolli brothers are auctioneers and when they aren't having a sale at their own place, they may be calling a farm sale, an antique sale, or a household sale around Macon, around Missouri, or even somewhere around the country. Frank and his brother, Tony, started the Missouri Ramblers Band and in another family tradition, some of his sons have again followed in his footsteps. Colonel Jim Lolli and the Tick Ridge Rangers band started in 1975, and in 1990 Tim Lolli and the East Fork Bandits started a band with other family members included. Mary Beth is known to "sing like a canary".
Scheduled sales for 2006, besides the regular livestock and horse sales, include the Exotic Sales scheduled for April 5-8, July 6-8, September 20-23, and December 7-9. The Horse Catalog Sales will be May 5-6, September 1-2, and November 4. The East Fork Gun & Collectibles sale will be February 18, 2006 and the Old West Sales will be March 23-25 and August 24-26.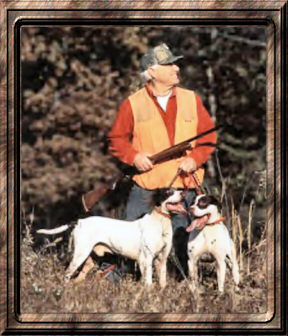 The entire Macon community was saddened recently when Frank passed away on January 28, 2006. In addition to his sons, he is survived by three daughters-in-law - Dianne, Judi, and Julie - nine grandchildren and two great-grandchildren.

There has been a memorial scholarship fund set up in his name - slated to be used by an agricultural student from Macon High School who might not otherwise have the opportunity to go to college.

If you would like to contribute to this worthy cause, checks should be made payable to: Frank Lolli Award and sent to:


Lolli Brothers Livestock Market Inc
704 Main Street
Macon, MO 63552

Thank you!