Maria Evans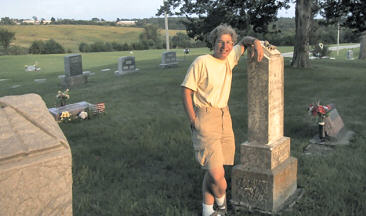 If you asked Maria how she ended up on the committee, she would tell you 'Every committee needs a token out of towner'. Although Maria lived in the Columbia, MO area from 1986-2000 and has lived in the Kirksville, MO area from 2000-present, her heart has never strayed too far from Macon - or very far from Highway 63, for that matter! With four generations of her family buried in the Woodlawn Cemetery, she stills sees Macon as her home. She describes herself as an extremely late bloomer to the study of history, going from loathing it in high school to becoming a 'History Channel junkie' in middle age. Her main historical interests center around 'living history', including Cowboy Action Shooting, creating a living history character for schools and civic groups, and collecting items related to the history of medicine. Her idea of a 'vacation' has encompassed attending horse cavalry school, participating in a historical wagon train trek, and learning horse drawn farming skills. 'I've always preferred doing something rather than reading about it,' she muses. Mariaís committee assignments include being content editor for the official Sesquicentennial website and assisting with selection/distribution of souvenir items.
---
Donna Llewellyn Lester
Donna Lester was born and raised in Macon, the daughter of Bill Llewellyn and Catherine Field. She graduated from Macon High School in the 100th graduating class in 1978.
As a teenager she was a member of Chapter #47 of the Rainbow for Girls. She was the founder of 'Save the San' - a youth group formed to help with the preservation of the Blees building in Macon. She has been a member of the National Trust for Historic Preservation and the Missouri Trust for Historic Preservation. She has also served as a geneology and historical look up volunteer for the Macon Public Library, the Macon County Courthouse, the Macon County Historical Society and the Macon GenWeb website.
Donna is a 16 year veteran of the Macon County Rescue Squad - an all volunteer, non-profit organization - and has served as a Board Member and Secretary/Treasurer for the Rescue Squad for the past 12 years. She has held the office of Registrar for the Macon Daughters of the American Revolution Chapter since 1998 and is a member of the Daughters of Union Veterans 1861-1865. She worked to organize the new Josephine Garlock Morrow Tent in Macon that was installed in October of 2005 and has been elected the first President of the Tent. She is also a member of the Macon County FlyWheel Organization and she works closely with the local Masonic Lodge and Shriners to raise funds for their charities.
She is married to Jerry Dale Lester - a native of Callao, Macon County, Missouri - has one daughter, Michele (McLeland) Pipes, one foster daughter, Monique (Groeniger) Callison and has ten grandchildren.
Donna states, 'I am proud that Macon is my home and I am so happy that I can give something back to this town. As the Chairman of this Committee, I am working to get EVERY citizen involved in our sesquicentennial celebration activities!'
---
Linda Farmer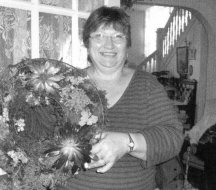 Linda has lived in Macon all but five years of her life. She participates in a wide variety of Flower and Garden Club activities, including serving as the Vice President of the Macon Flower and Garden Club. She is also the District Director and Treasurer of the Shelby and Macon County Master Garden Club. Linda volunteers at least 150 hours a year on Master Gardens. In the photo, she is holding the living wreath she displayed at a recent meeting.
Linda and her husband Ronnie have been married 42 years and have three sons - Ricky, who went to West Point, Richard, and Jeff - as well as 6 grandchildren.
---
Terry Giddings
Terry moved to the Macon area in 2003. He originally lived on the shores of Lake Superior in Michigan. While searching for a retirement locale, he visited Macon in 1998 and as he says, 'I thought I had found Mayberry. Everyone was so friendly I just loved the town. I decided I needed to contribute in the growth of this community, so I joined the committee.'
Terry is married with four children - they have two daughters in college, one son is presently attending Macon High School and his older son is currently serving our country in Iraq.
---
Doris Polack
Doris is one of the members of the committee who fondly remembers Maconís 1956 Centennial. "What an honor it was to be asked to serve on the committee to help Macon celebrate its 150th year. Although I canít really say that it seems just like yesterday when in 1956 we commemorated our centennial, I do remember marching in the parade with the Macon High School band, along with the Fort Leonard Wood band, a Shrine Club group from Kansas City, and over a mile of beautifully decorated floats. We also had a big carnival in town which was always fun, and we had what was booked as 'the largest fireworks display to ever be seen in northern Missouri'. Red Foley along with his Ozark Jubilee Band performed for both a matinee and an evening production. And to everyoneís delight, his band played for dancing after the evening show.
Frank Briggs was the Master of Ceremonies. Others mentioned in the program were Huey Lucas, Claude Blomberg, Harry Moehle, Walker Long, Joe Smith, Wayne Daniel, Tom Briggs, Amy Carey, Spence McGrew, Ralph Barnett, Ed Hunt, Hugh Dunn, Doc Lucas, and Gerald Sandbothe."
In 1956, Doris was a junior at Macon High School. After graduation, she earned a Bachelor of Science degree at Kirksville State Teachers College (now Truman State University), married her husband Joseph, then moved to the Philadelphia, PA area. She recalls, "We loved all that the East Coast had to offer". Doris and her husband stayed there until 1976, then moved with their son and daughter to San Antonio, TX. Doris and Joseph retired in 2000 from the Texas public school system and a few years later, returned to Macon "where we have made new friends and cherish old ones".
---
Barbara Jo (B.J.) Roberts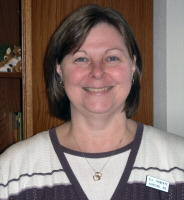 Although B.J. is not a lifelong resident of Macon, she moved to Macon when she was 10 along with her parents (Gale and Diana Smith) and siblings (Ricky and Dorie).
A 1974 graduate of Macon High School, she is married to Jim Roberts (a Callao native). B.J. and Jim have three children, Joshua, Jessica and Jolene, as well as 'a perfectly wonderful grandson' - Levi, age 2.
B.J. is a registered nurse at Loch Haven nursing home and very active in her church. In her own words, she joined the committee "to have a hand in planning a time of family fun ... a chance to make memories".
---
Merlyn Amidei
Merlyn was born in a farmhouse east of Macon. She lived in that home with her parents, Merle and Margaret Jones, until she married. She has one brother, Dick Jones and one sister, Linda Schroeter. Merlyn attended 'country school' while growing up (Brown School #84) through the 8th grade, graduating from Macon High School in 1963. She went on to pursue a teaching degree and received a bachelorís degree in Education from Kirksville State Teacher's College (now Truman State University).
For a total of 27 years Merlyn enjoyed a rewarding teaching career at South Shelby, Macon R-I and Immaculate Conception schools. She is involved in a wide variety of civic groups, including the Lydian Club, Macon County Historical Society and Macon Downtown Association. Although when it comes to service her 'one true love' is the Boy Scouts. She has been involved in Scouting since 1978, and has been the recipient of many honors related to Scouting, including the Cub Scout Wood Badge, the District Award of Merit and the Silver Beaver Award.
Another passion of Merlynís is her lifelong interest in history and she is in the process of writing a book entitled The Scenery, Greenery and Inbetweenery - a timeline of the US presidency filled with unusual facts and stories about our Presidents that aren't found in regular history books.
Her husband is Joe Amidei. They have two sons, Robert Noyes of Houston, TX, and Bill of Macon - Bill and his family operate the Macon Skate Center- as well as five grandchildren.
Merlyn was a youngster during Maconís Centennial in 1956 and this sparked her to be a part of the Sesquicentennial. She notes, "I participated with my 4-H square dance group at the Macon Centennial, and now I am a member of the Sesquicentennial Committee. My main emphasis is on doing the monthly Tid-Bits - an 'on this day in Macon' series spanning 150 years which can be picked up at any Macon bank, working on the tours for July 2nd, and organizing Theodore Gary Day being held on August 11th. I believe everyone should do what they can to keep Macon a thriving community."