Hall of Famer – Coach Hugh Dunn
By Merlyn Amidei with information from Peg Dunn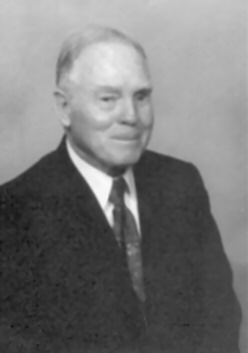 A young man by the name of Hugh Calvin Dunn graduated from Harrisonville High School in 1940 and entered Missouri Valley College in 1941 with dreams of playing football and track. He had only completed two seasons of football and one season of track before his whole world changed because of World War II.
Hugh entered the US Army with the 63rd Infantry Division in November 1942. While in Germany, he was wounded - not once but twice - in March 1945 and again in April 1945. He lost a hand and his lower arm. He received the Purple Heart with Cluster and the Silver Star Medal in April 1945. Sergeant Dunn was honorably discharged in November 1945.
The war may have claimed part of his body but it could not take away his dream to play sports. When he returned to Missouri Valley for the second semester he was able to participate in track - running the 220 yard dash and on relay teams.
The next fall he wanted to play football again, but thought he couldn't play back and would switch to guard. But his coach gave him the opportunity to continue to play the back position, and Hugh successfully held this position until he graduated.
By the time Hugh graduated in 1948 he had played four seasons of both football and track. Not only did he play, but as a senior he received the Williamson Football Award as the Small College Outstanding Player of 1948 and he was also voted to the NAIA Football Hall of Fame that same year.
Hugh continued his education at the University of Missouri and came to Macon for the 1950-1951 school term to teach physical education and coach football, basketball, and track. He received his Masters degree in 1951 and remained here Macon where he coached football and track for a total of forty years.
Coach Dunn has received many honors and awards throughout the years. Some more memorable ones were having the Macon Football Field named after him in 1971, being inducted into Missouri Valley Hall of Fame in 1992 and being inducted into the Missouri Sports Hall of Fame in 1999 in Springfield.
Hugh married his college sweetheart, Peg, who has been by his side for 56 years. She was Valley's Queen and also the Track Queen ... and she will always be Hugh's queen. They have three sons (Bucky, Buddy and Todd) and two daughters (Nancy and Laurie). They are also Poppy and Grammy to eleven grandchildren and one great-grandchild.
Even though Coach retired in 1991, he and Peg still attend a lot of athletic events, not only at Macon, but at Mizzou and following the team of their son Todd, who followed in his father's footsteps. During the summer you will probably see Coach mowing the lawn either on the Macon School grounds or at the Country Club where his son Bucky is the groundskeeper. And you can bet that next fall Coach and Peg will be at Hugh Dunn Field cheering on the Macon Tigers.